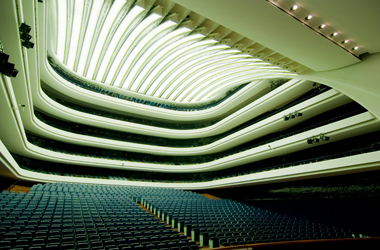 Seating capacity: 1.412 people
The Sala Principal, with a capacity of 1.412 spectators, is the most emblematic space in Calatrava's majestic building. It is here that the opera, ballet and other stage performances included in the season's program of the Palau de les Arts take place.
The auditorium features an ample parquet and four seating levels distributed in a horseshoe shape. The hall is equipped with the latest stage technology so that any type of event can be organized and carried out on its immense stage. All seats have their own text screen designed for simultaneous translation.