ORQUESTRA DE LA COMUNITAT VALENCIANA
Palau de les Arts' Orchestra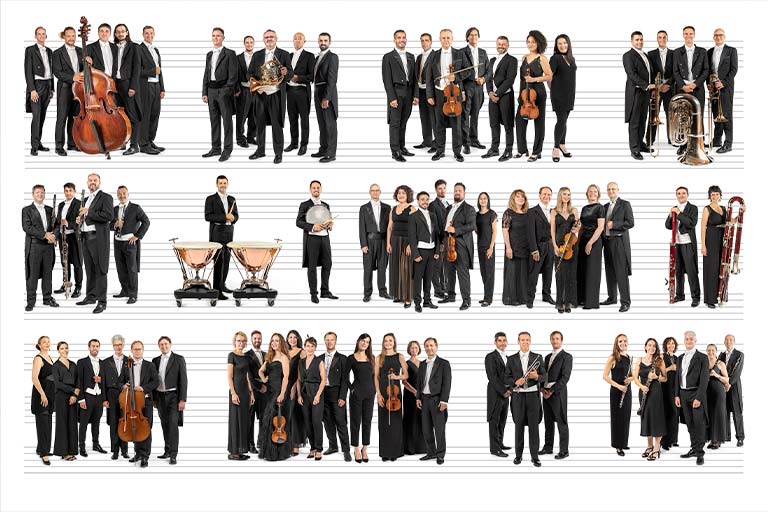 © Mikel Ponce / © Miguel Lorenzo
ORQUESTRA DE LA COMUNITAT VALENCIANA
Palau de les Arts' Orchestra
The Orquestra de la Comunitat Valenciana (OCV) [Orchestra of the Region of Valencia] was founded in 2006 by Lorin Maazel, who was its first musical director. As the orchestra of the Palau de les Arts, it has quickly won prestige among the public and critics and achieved a level of artistic excellence that makes one of the best orchestras in Spain and one of the most important created in Europe in recent years. This recognition has also been earned thanks to the work of Zubin Mehta in the initial seasons, above all with the DVD recording of Wagner's Ring, together with maestros of the stature of Riccardo Chailly, Andrew Davis, Valery Gergiev, Gianandrea Noseda and Georges Prêtre. The chief conductors of the OCV have been Omer Meir Wellber, Roberto Abbado and Fabio Biondi, with Ramon Tebar as its chief guest conductor. From September 2021, James Gaffigan is the music director of the orchestra, and he will open and close the season conducting Mozart's Requiem and Wozzeck, respectively.
The OCV has been praised for the quality of its musicians and as a versatile ensemble capable of interpreting both opera and symphonic music with its own personality. It has continued its artistic journey supported by leading conductors, such as Daniele Gatti (Verdi's Requiem)  and extended its already broad opera repertoire in a variety of styles guided by internationally renowned conductors such as Marc Albrecht (Elektra) , Carlo Rizzi (La Cenerentola), Daniele Rustioni (Falstaff), Stefano Montanari (Così fan tutte) and Markus Stenz (Fin de partie). It has also maintained close collaboration with the most important internationally recognised Spanish conductors, including Guillermo García-Calvo, Gustavo Gimeno, Pablo Heras-Casado, Juanjo Mena and Josep Pons.
Every season, the Orquestra de la Comunitat Valenciana plays in the opera season in Les Arts, as well as an ambitious concert cycle in which it tackles complex works in a wide range of styles, such as Janáček's Glagolitic Mass, the Verdi and Brahms requiems, Stravinsky's ballets, symphonies by Beethoven, Brahms, Bruckner, Dvořák, Haydn, Mahler, Mendelssohn, Mozart, Prokofiev, Schubert, Schumann, Shostakovich, Sibelius and Tchaikovsky, symphonic poems by Mussorgsky, Rimski-Korsakov and Strauss, and French and Spanish music. It also participates actively in training (productions and concerts at the Centre de Perfeccionament) and educational programmes (concerts for school students and families), and works to bring music to a wider public (Sunday morning chamber concerts).
Considered one of the most important cultural icons of the Region of Valencia, the OCV gives some of its concerts in other halls and venues in the region (the Les Arts amb Tu cycle). It has also had close links with the Auditori in Castelló since its opening, and gives a number of concerts there every season with leading conductors. As an ambassador of the immense musical heritage of Valencia, the orchestra has played and rediscovered compositions by Barrachina Sellés, Blanquer, Chapí, Esplà, López-Chavarri, Llàcer Pla, Lleó, Palau, Rodrigo, Salvador and Serrano.  It also works to spread public awareness of contemporary composers such as César Cano, Juan José Colomer, Francisco Coll and Andrés Valero.
MUSIC DIRECTOR
James Gaffigan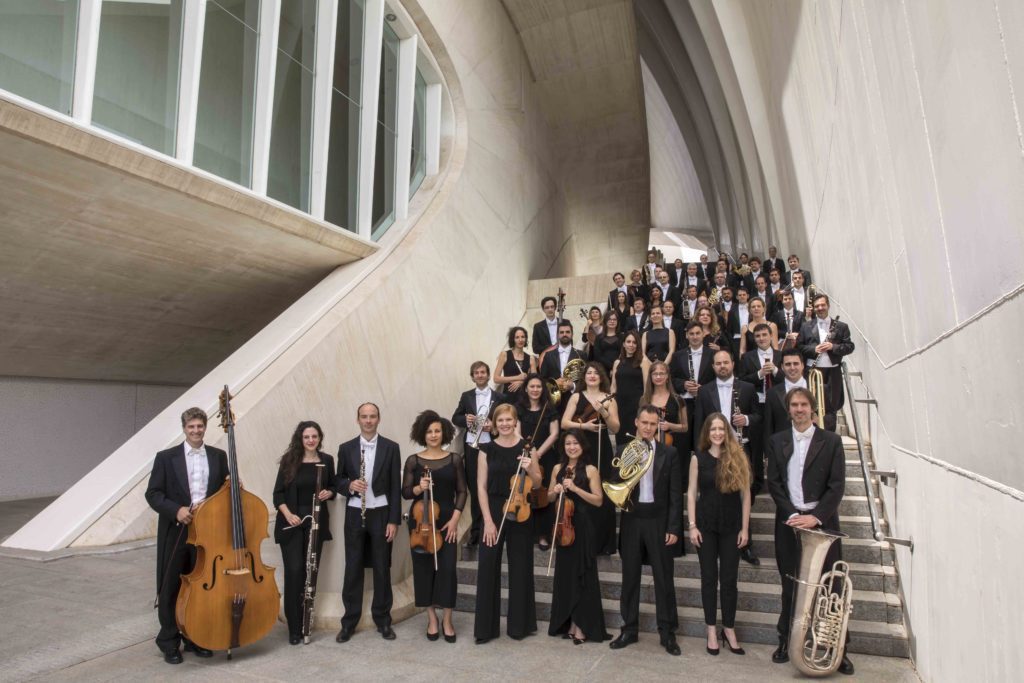 Musicians
FIRST VIOLINS
Gjorgi Dimcevski, concertmaster
Roman Kholmatov, associate concertmaster
Po-An Lin, assistant principal
Benjamin Scherer, assistant principal
Susanna Gregorian
Rubén Mendoza
Marija Nemanyté
Teresa Nikolova-Nolen
Hyewon Ryu
Mikhail Spivak
Roman Svirlov
Elena Trushkova
SECOND VIOLINS
Anastasia Pylatyuk, principal
Anna Stepanenko, assistant principal
Carles Civera
Dasha Dubrovina
Lelia Iancovici
Evgueni Moriatov
Inés Romaguera
Katriina Saloheimo
Marta Wasilewicz
VIOLAS
Andriy Viytovych, principal
Sergio Sáez, assistant principal
Javier Alejandro Cárdenas
Samuel Espinosa
Julia Hu
Ana Mba
Andrey Ovchinnikov
VIOLONCELLOS
Salvador Bolón, principal
Rafał Jezierski, co-principal
Arne Neckelmann, assistant principal
Alejandro Friedhoff
Blanca Gorgojo
Olga Kochenkova
Uladzislau Trukhan
DOUBLE-BASSES
Mihai Ichim, principal
Zoltan Dosa, assistant principal
Matthew Baker
David Molina
Gianluca Tavaroli
HARP
FLUTES
Magdalena Martínez, principal
Ana Naranjo, co-principal
Virginie Reibel, assistant principal
Piccolo
Virginie Reibel
OBOES
Christopher Bouwman, principal
Pierre Antoine Escoffier, principal
Ana Rivera, assistant principal
Cor Anglais
Ana Rivera
CLARINETS
Joan Enric Lluna, principal
Tamás Massànyi, co-principal
Francisco Javier Ros, assistant principal
Cecilio Vilar, assistant principal
E-flat clarinet
Cecilio Vilar
Bass clarinet
Francisco Javier Ros
BASSOONS
Salvador Sanchis, principal
Alba González, assistant principal
Contrabassoon
Alba González
HORNS
Bernardo Cifres, principal
Jesús Sánchez, co-principal
David Rosell, assistant principal
Miguel Martín
David Sánchez
TRUMPETS
Rubén Marqués, principal
Christian Ibáñez, co-principal
Josep Maria Olcina
TROMBONES
Juan Manuel Real, principal
Ignacio Pérez, assistant principal
José Vicente Faubel
Bass and contrabass trombone
Ignacio Pérez
TUBA
Ramiro Tejero, principal
Cimbasso
Ramiro Tejero
TIMPANI
Gratiniano Murcia, principal
PERCUSSION
Francisco Inglés, principal
Ignasi Doménech
Lorin Maazel
Founder and first Music Director.
From 2006 to 2011.
Omer Meir Wellber
Music Director.
From 2011 to 2014.
Ramón Tebar
Principal Guest Conductor
From 2015 to 2019.
Zubin Mehta
President of the Festival del Mediterrani.
From 2006 to 2014.
Fabio Biondi
Music Director.
From 2015 to 2018.
Roberto Abbado
Music Director
From 2015 to 2019.