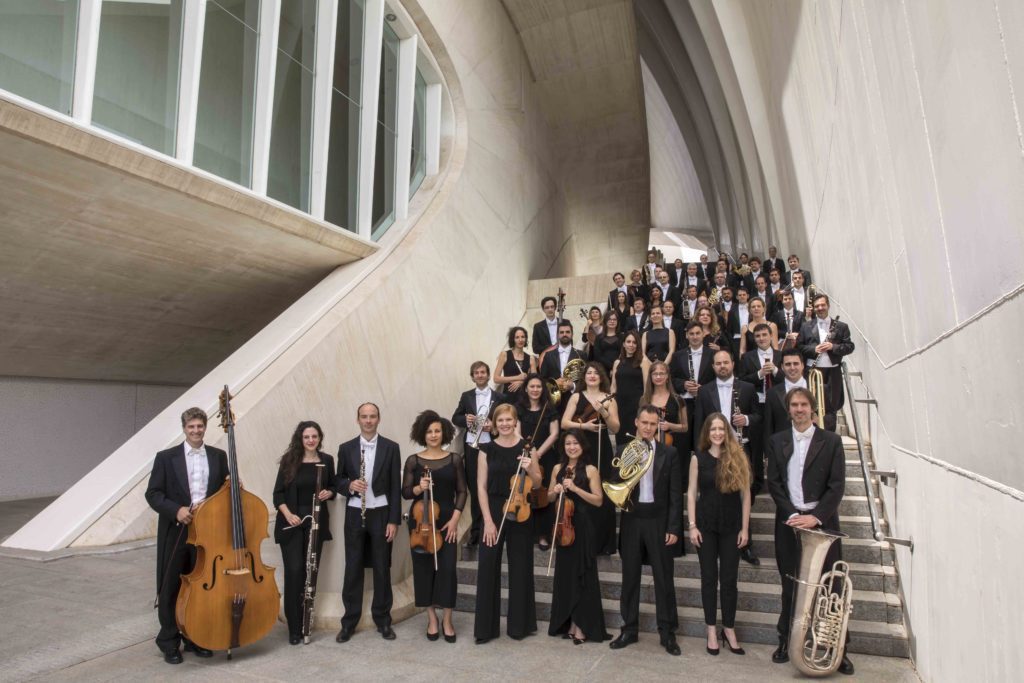 © Mikel Ponce / © Miguel Lorenzo
The Orquestra de la Comunitat Valenciana (OCV), leading orchestra at Palau de les Arts Reina Sofía, was created in 2006 and comprises international musicians, personally selected by the founder music director, Lorin Maazel. In a short time, the OCV has been positioned among the most upwardly moving orchestras internationally. The main task of the orchestra is to perform in the orchestra pit during the opera season at Palau de les Arts. To their flexibility in opera, their brilliant personality to tackle ambitious scripts of symphonic repertoires is added. Conducted by Lorin Maazel, the orchestra polished its technique and became a versatile group capable of performing complex scores of very differing styles. Subsequently, its music directors have been Omer Meir Wellber, Roberto Abbado and Fabio Biondi, as well as Ramón Tebar as principal guest conductor. Maestro Zubin Mehta has also had close relations with the OCV since it was created. The two performances of Wagner's famous Tetralogy consolidated the international prestige of the young but solid orchestra. The presence of other great names in contemporary orchestra conducting such as Riccardo Chailly, Andrew Davis, Valery Gergiev, Gianandrea Noseda or Georges Prêtre, and their activity in the recording market contributes to place the Orquestra de la Comunitat Valenciana among the most exemplary and dynamic symphonic projects of our time.
FIRST VIOLINS
Gjorgi Dimcevski, concertmaster
Po-An Lin, assistant principal
Benjamin Scherer, assistant principal
Susanna Gregorian
Marija Nemanyté
Teresa Nikolova-Nolen
Mikhail Spivak
Roman Svirlov
Elena Trushkova
SECOND VIOLINS
Anastasia Pylatyuk, principal
Anna Stepanenko, assistant principal
Dasha Dubrovina
Lelia Iancovici
Evgeni Moryatov
Alexander Nikolaev
Katriina Saloheimo
Eri Takeya
VIOLAS
Sergio Sáez, assistant principal
Javier Alejandro Cárdenas
Julia Hu
Ana Mba
Andrey Ovchinnikov
VIOLONCELLOS
Rafał Jezierski, co-principal
Arne Neckelmann, assistant principal
Salvador Bolón
Alejandro Friedhoff
Olga Kotchenkova
DOUBLE-BASSES
Mihai Ichim, principal
Zoltan Dosa, assistant principal
Matthew Baker
David Molina
Gianluca Tavaroli
HARP
Cristina Montes, principal
FLUTES
Magdalena Martínez, principal
Virginie Reibel, assistant principal
Piccolo
Virginie Reibel
OBOES
Christopher Bouwman, principal
Pierre Antoine Escoffier, principal
Ana Rivera, assistant principal
Cor Anglais
Ana Rivera
CLARINETS
Joan Enric Lluna, principal
Tamás Massànyi, co-principal
Francisco Javier Ros, assistant principal
Cecilio Vilar, assistant principal
E-flat clarinet
Cecilio Vilar
Bass clarinet
Francisco Javier Ros
BASSOON
Salvador Sanchis, principal
Alba González, assistant principal
Contrabassoon
Alba González
HORNS
Bernardo Cifres, principal
Jesús Sánchez, co-principal
Miguel Martín
David Sánchez
TRUMPETS
Rubén Marqués, principal
Josep Olcina
TROMBONES
Juan Manuel Real, co-principal
Ignacio Pérez, assistant principal
José Vicente Faubel
Bass and contrabass trombone
Ignacio Pérez
TUBA
Ramiro Tejero, principal
Cimbasso
Ramiro Tejero
TIMPANI
Gratiniano Murcia, principal
PERCUSSION
Francisco Inglés, principal
Lorin Maazel
Founder and first Music Director.
From 2006 to 2011.
Omer Meir Wellber
Music Director.
From 2011 to 2014.
Ramón Tebar
Principal Guest Conductor
From 2015 to 2019.
Zubin Mehta
President of the Festival del Mediterrani.
From 2006 to 2014.
Fabio Biondi
Music Director.
From 2015 to 2018.
Roberto Abbado
Music Director
From 2015 to 2019.