MARIA STUARDA
Gaetano Donizetti

Opera in two acts
Libretto by Giuseppe Bardari based upon Andrea Maffei's translation
of Maria Stuarda by Friedrich Schiller

Or how ambition can make you lose your mind



Giuseppe Bardari wrote the libretto for this opera, which skilfully plays with history and recreates its real-life characters dramatically. They were presented to the public at its premiere in 1835 wearing all the finery of those romantic and patriotic times. The drama of two women in love with the same man also serves to explain a moment in history when two family crowns faced each other in a final duel: the death of Mary of Scots by order of her cousin Elizabeth of England would unify the two kingdoms on Elizabeth's death, making the son of Mary, James I, the king of a unified Great Britain.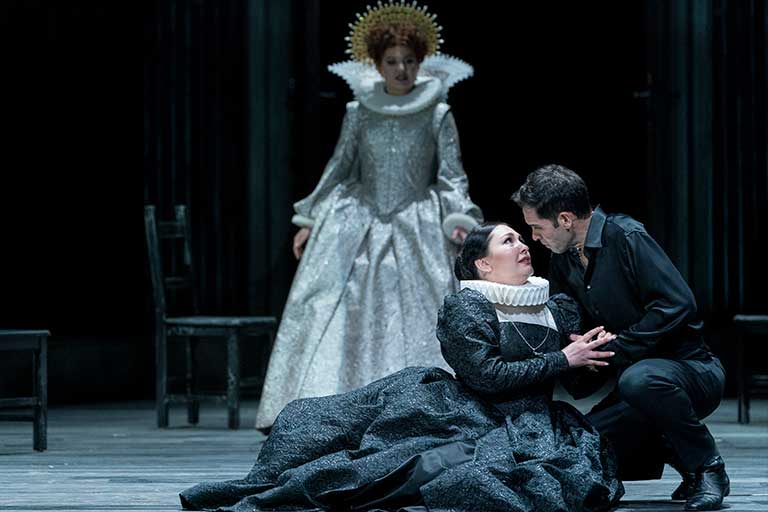 Creative Team
Direcció d'escena
Jetske Mijnssen
Direcció musical
Maurizio Benini
Il·luminació
Cor van den Brink
Coreografia
Lillian Stillwell
Cast
Maria Stuarda
Eleonora Buratto
Elisabetta
Silvia Tro Santafé
Giorgio Talbot
Manuel Fuentes
Lord Guglielmo Cecil
Carles Pachon
Anna Kennedy
Laura Orueta +
Cor de la Generalitat Valenciana
Chorus master
Francesc Perales
Orquestra de la Comunitat Valenciana
+Alumni – Centre de Perfeccionament
A new production by Palau de les Arts Reina Sofía, in co-production with Dutch National Opera, and Teatro di San Carlo