EL TUTOR BURLAT
Vicente Martín i Soler
Opera buffa in three acts
Libreto de Filippo Livigni, based upon La finta semplice ossia Il Tutore Burlato by Pasquale Mililotti
It is friendly, cheerful and fresh as the landscape of the Roman countryside where the plot takes place. This first comedy by Vicente Martín i Soler develops from veiled criticism of the ironclad social rules established in the mid-18th century to the defence of freedom and love above conventional mores and interests, while demonstrating with easy-going discernment the new social position of women in the years before the French Revolution.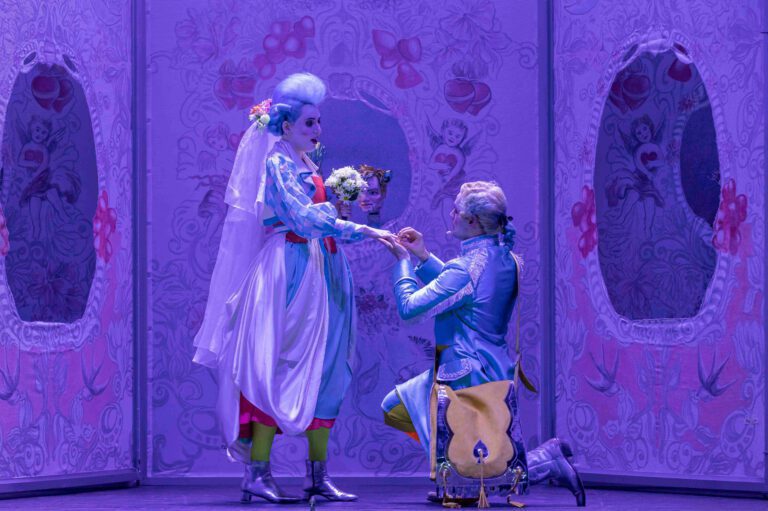 Creative Team
Stage direction and scenography
Jaume Policarpo
Costume design
José María Adame
Lighting design
Antonio Castro
Adaptation to valencian
Enedina Lloris
Cast
El tutor Don Fabrizio
Marcelo Solís
El cavaller Don Lelio
David Ferri Durà
Pianista
José Jaime Hidalgo
PRODUCCIÓ DE PALAU DE LES ARTS REINA SOFÍA
Synopsis
Don Lelio confesses to his servant Anselmo that he is in love with Violante, the pupil of his friend Fabrizio, who wants to marry her for her money, although she spurns him. Don Lelio asks for his permission to woo her and Fabrizio reluctantly accepts. Violante claims she does not believe in love, until she meets Pippo, a rich shepherd from her town. Each of the three men deploys a number of intrigues, jealousies and tricks to win over the girl. Finally, the flame of love is ignited between Pippo and Violante, who with the help of the tutor's daughter Menica manage to teach a lesson to the other two suitors. They all meet at the end to sing to the triumph of love.
Program
La Xerea · 23/09/2022 · 22:00h · Plaça del Patriarca
L'Hort de Senabre · 24/09/2022 · 22:00h · Plaça de Segòvia
Natzaret · 25/09/2022 · 20:00h · Plaça del Santíssim Crist de Natzaret
Velluters · 30/09/2022 · 22:00h · Plaça del Pilar
El Cabanyal - Canyamelar · 01/10/2022 · 22:00h · Plaça de l'Església dels Àngels
Montolivet · 02/10/2022 · 20:00h · Plaça del Mestre Vicent Ballester Fandos