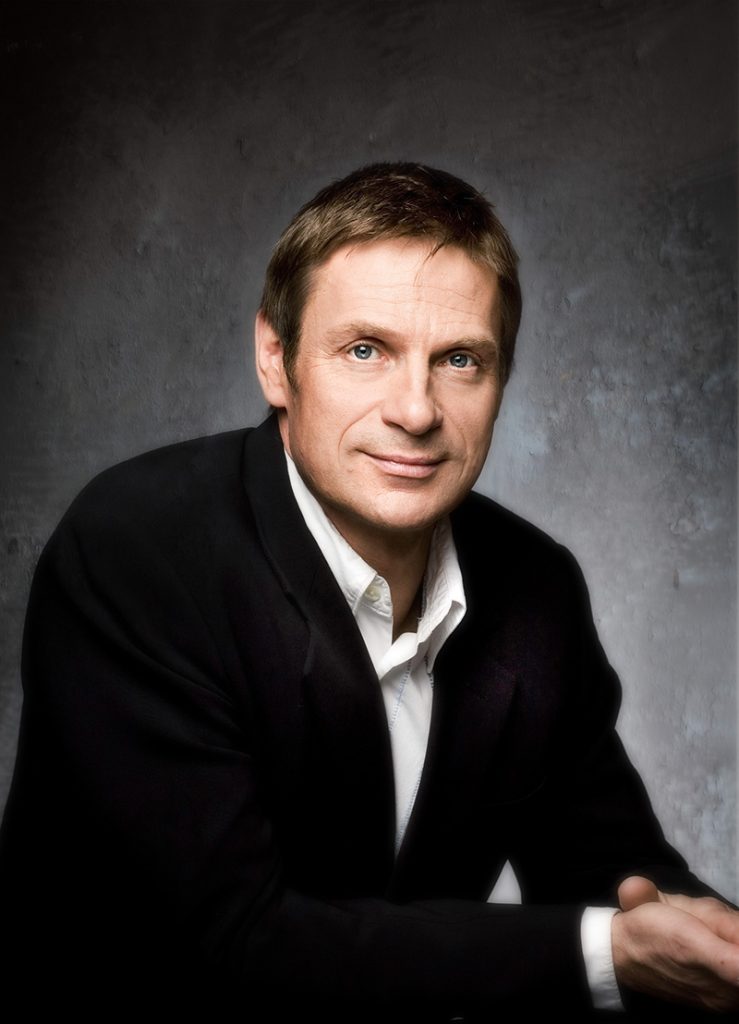 Simon Keenlyside dedica su recital de 'Les Arts és Lied' a la obra de Franz Schubert y a la 'mélodie' francesa. Acompañado al piano por Caroline Dowdle, el prestigioso barítono inglés hará su debut en Les Arts este sábado, 1 de febrero, a las 19.00 horas.
Caballero del Reino Unido por su servicio a la música y Kammersänger de la Staatsoper de Viena, Simon Keenlyside está considerado como uno de los cantantes más completos y versátiles en su cuerda.
La crítica y el público alaban tanto sus habilidades vocales y escénicas para la ópera, donde abarca desde el repertorio barroco hasta la lírica contemporánea, como su faceta de 'liederista' por su dicción, dominio técnico y rigor de sus interpretaciones.
Para su presentación ante el público de Les Arts, el artista británico propone un programa que aúna la esencia de 'lied' alemán de Schubert con obras de los grandes maestros de la 'mélodie' francesa como Debussy, Fauré, Poulenc y Ravel.
Simon Keenlyside es uno de los nombres habituales en los repartos de los grandes teatros de ópera del mundo, especialmente vinculado a las programaciones del Metropolitan de Nueva York, el Covent Garden de Londres, así como de la Bayerische Staatsoper de Múnich y la Staatsoper de Viena.
Entre las numerosas distinciones y reconocimientos del barítono londinense, destacan los premios Musical Vocalist of the Year de la publicación estadounidense 'Musical America', el alemán ECHO Klassik al mejor intérprete del año, además del Premio Laurence Olivier por sus excepcionales logros en ópera.
En la presente temporada, los compromisos de Simon Keenlyside le llevarán a la Staatsoper de Viena para interpretar Posa ('Don Carlo'), Ford ('Falstaff') y Giorgio Germont '(La Traviata'); Rigoletto, Amfortas ('Parsifal') y Germont en la Bayerische Staatsoper; 'La Traviata' en el Covent Garden; Golaud ('Pélleas et Mélisande') en Hamburgo, y 'Parsifal' en la Deutsche Oper de Berlín.
Cantará en concierto con la Swedish Radio Symphony Orchestra dirigido por Daniel Harding, la Cleveland Orchestra dirigido por Franz Welser-Möst, la ORF Radio-Symphonieorchester Wien dirigido por Alexander Joel, y la Orquesta de París bajo la dirección de Daniele Rustioni.
Asimismo, ofrecerá recitales junto a Thomas Adès en la Staatsoper de Viena y con Malcolm Martineau en el Wigmore Hall y en la Ópera de Lille.
Caroline Dowdle
Caroline Dowdle ha actuado tanto en Gran Bretaña como en el continente europeo, ofreciendo recitales con cantantes e instrumentistas en Londres (South Bank y Wigmore Hall), París (Radio France) y Moscú. El año pasado actuó en el Weill Recital Hall y en el Carnegie Hall en la ciudad de Nueva York.
Asiduamente, ofrece recitales junto al reputado barítono Thomas Allen, que compagina su trabajo con los cantantes del programa de jóvenes artistas Jette Parker del Covent Garden de Londres. Además, es miembro de la Facultad del Royal College of Music de la capital británica.
Fuera de Reino Unido, Dowdle también es invitada como preparadora musical por el programa 'Lindemann' del Metropolitan de Nueva York, y es directora de ópera en el Atelier Lyrique del Festival Verbier, donde ha actuado regularmente durante los últimos diez años.
Les Arts és Lied
'Les Arts és Lied', el primer ciclo que el centro de artes consagra a este género, concluirá el próximo 15 de marzo con el recital de la soprano guipuzcoana Ainhoa Arteta.
El coliseo recuerda a los interesados que el precio de las entradas oscila entre 20 y 40 euros y que podrán ser adquiridas en las taquillas del teatro y a través de la web www.lesarts.com.